This 007 timeline is a comprehensive list of important dates in the history of the James Bond franchise and the real history behind it. It lists all the important events which have taken place from the character's inception in 1953 by writer Ian Fleming, to the present day.
Events are split into sections based on when they occurred, first by decade, then year and finally by month.
1900s
1908
1909
1910's
1915
October 27: Harry Saltzman was born in Saint John, New Brunswick, Canada.
1920's
1926
1927
1930's
1930
August 25: Sean Connery was born in Fountainbridge, Edinburgh, Scotland.
1939
May: Ian Fleming was recruited by Rear Admiral John Godfrey, Director of Naval Intelligence of the Royal Navy, to become his personal assistant.
September 5: George Lazenby was born in Goulburn, New South Wales, Australia.
1940's
1940
September 12: Operation Ruthless, a plan aimed at obtaining details of the Enigma codes used by Nazi Germany's navy, was instigated by a memo written by Fleming to Godfrey. 
1942
January 21: Michael G.Wilson was born in New York City, New York.
Fleming formed a unit of commandos, known as No. 30 Commando or 30 Assault Unit (30AU), composed of specialist intelligence troops.
1944 or 1946
March 21: Timothy Dalton was born in Colwyn Bay, Wales, United Kingdom.
1945
Fleming left the Naval Intelligence for The Sunday Times.
1950s
1952
February 17: To distract himself from his forthcoming nuptials, Fleming starts writing Casino Royale at his Goldeneye estate in Jamaica.
March 18: Fleming finishes work on the script and shows it to an ex-girlfriend, Clare Blanchard, who advises him not to publish it at all, but that if he does so, it should be under another name.
March 24: Ian Fleming marries Ann Charteris in Jamaica.
1953
April 13: Fleming publishes his first novel, Casino Royale, establishing the character of James Bond. It was a success and three print runs were needed to cope with the demand.
May 16: Pierce Brosnan is born in Drogheda, County Louth, Republic of Ireland.
1954
October 21: An hour-long television adaptation of Casino Royale is aired as an episode of CBS's dramatic anthology series Climax Mystery Theater.
1955
April 7: Fleming's third novel, Moonraker, is published.
1956
Moonraker is retitled Too Hot to Handle for its release in the U.S.
March 26: Fleming's fourth novel, Diamonds Are Forever is published.
1957
April 8: The fifth Bond novel, From Russia with Love, is published. Fleming toys with the idea of killing off the James Bond character, unsure of whether he should write another Bond novel or not.
1958
March 31: Fleming's sixth novel, Dr. No, is published. The novel was originally a screenplay written in 1956 for what would have been a television show entitled Commander Jamaica. It marks the first appearance of both Major Boothroyd and Bond's signature weapon, the Walther PPK.
Summer: Fleming and his friend, Ivar Bryce, begin talking about the possibility of a James Bond film.
Autumn: Bryce introduces Fleming to a young Irish writer and director, Kevin McClory, and the three of them, together with Fleming and Bryce's friend Ernest Cuneo, form the partnership Xanadu Productions.
1959
March 23: Goldfinger, the seventh novel in Ian Fleming's James Bond series is published.
May: Fleming, Bryce, Cuneo and McClory come up with a story outline based on an aeroplane full of celebrities and a female lead called Fatima Blush. Over the next few months there are ten outlines, treatments and scripts.
1960s
1960
American copies of Moonraker are reverted to the original title.
January-March: Fleming writes the novel Thunderball at Goldeneye, based on the screenplay written by himself, Whittingham and McClory.
1961
March 17: In an article in Life Magazine, US President John F. Kennedy lists From Russia, with Love as one of his ten favourite books.
1962
April 16: The Spy Who Loved Me, the ninth novel in Ian Fleming's James Bond series is published. It is the shortest novel in the series, and is told from the first-person perspective of a woman named Vivienne Michel, rather than the third-person used in the other books.
1963
April 1: On Her Majesty's Secret Service, the tenth novel in Ian Fleming's James Bond series is published. It is the first Fleming novel published after the release of the film Dr. No.
November 19: McClory takes Fleming to court over the publication of Thunderball, suing him for plagiarism. They settle out of court. McClory gains the literary and film rights for the screenplay, while Fleming is given the rights to the novel, although it has to be recognised as being "based on a screen treatment by Kevin McClory, Jack Whittingham and the Author".
1964
March 16: You Only Live Twice, the eleventh novel (and twelfth book) in Ian Fleming's James Bond series of stories is published. It is the final Bond novel to be released in Fleming's lifetime.
August 12: Fleming dies of a heart attack in Canterbury, Kent, England.
September 17: The third Eon Productions film Goldfinger is released.
1965
April 1: The Man with the Golden Gun, the twelfth novel (and thirteenth book) of Ian Fleming's James Bond series is posthumously published. It is the first and only novel published after Ian Fleming's death.
February 16: Filming commences the fourth Eon Productions film Thunderball after producers Broccoli and Saltzman agree with McClory to cinematically adapt the novel. The joint production stops McClory from making any further versions of the novel for a period of ten years following the release of the Eon-produced version.
December 9: The fourth Eon Productions film Thunderball is released.
1966
1967
April 13: The unofficial James Bond satire Casino Royale is released.
July 29: It is officially announced that Sean Connery is leaving the role of James Bond.
1968
March 28: Colonel Sun - the first continuation James Bond novel published after the death of Ian Fleming - is published by Glidrose Productions and written by Kingsley Amis under the pen name of Robert Markham.
1969
November: George Lazenby steps down from the role as James Bond following advice that the Bond series was outdated, and unresolved disputes with Broccoli and Saltzman.
December 18: The sixth film in the James Bond film series, On Her Majesty's Secret Service, is released.
1970s
1971
1973
1974
1975
After suffering troubling financial disputes, his wife's diagnosis of terminal cancer, and depression, Harry Saltzman sells his 50% stake in Danjaq, LLC, the parent company of Eon Productions, for £20 million.
Kevin McClory first announces that he is remaking Thunderball under the title Warhead. The concept would remain in limbo before eventually being replaced by the Never Say Never Again project.
1976
December 5: The 007 Stage - one of the largest silent stages in the world - is officially opened at Pinewood Studios in a ceremony attended by former British Prime Minister, Harold Wilson.
1977
1979
June 26: The release of Moonraker. It is the eleventh official James Bond movie.
1980s
1981
After his previous failure to begin production of Warhead, Kevin McClory finds a production company set up by a top Hollywood lawyer and announces a new project. Again, it would be a remake of Thunderball starring Sean Connery. It would become Never Say Never Again.
1982
1983
June 6: The release of Octopussy. It is the thirteenth official James Bond movie.
October 5: A newly discovered asteroid is named 9007 James Bond in honour of Ian Fleming.
October 7: The unofficial James Bond film and remake of the 1965 film Thunderball - Never Say Never Again - is released by Warner Bros.
A side-scrolling video game titled James Bond 007 is developed and published by Parker Brothers for the Atari 2600, Atari 5200, ColecoVision, and Commodore 64.
1984
June 27: The 007 Stage is burnt to the ground towards the end of filming of Ridley Scott's Legend.
1985
June 14: The Royal Premiere of A View To A Kill at the Odeon Cinema, Leicester Square, London.
Autumn: Following the financial[3] and critical disappointment of A View to a Kill, work begins on scripts for Bond 15.
December 3: Roger Moore officially announces his retirement from the role after 12 years and 7 films..[4]
1986
Spring: After an extensive search for a new actor to play Bond (involving auditions by New Zealander Sam Neill, Irish-born Pierce Brosnan and Welshman Timothy Dalton) the producers eventually offer the role to Brosnan after a three-day screen-test.[5] No formal announcement was made by the Bond producers.
July 15: Due to the publicity Brosnan is receiving as the heir-apparent to the license to kill, television network NBC exercises a 60-day option in his contract to make a further season of the recently cancelled show Remington Steele.[6][7] Brosnan, with his 7-year contract, is obligated to return to the show.[8]
August 6: Bond producer Albert Broccoli withdraws the offer given to Brosnan, citing that he does not want the character associated with a contemporary TV series.[8][9] Timothy Dalton, whose name has never been publicly mentioned as a contender prior to late July, is publicly named the 4th James Bond. Shooting on The Living Daylights is consequently postponed to late September.
December 11: Royal dignitaries Prince Charles and Princess Diana visit the set of The Living Daylights to meet the new James Bond, Timothy Dalton.
The text-based video game James Bond 007: Goldfinger (based on the 1964 film) developed by Angelsoft and published by Minscape. is released for the PC, Macintosh, and Apple II platforms.
1987
July 31: The 15th official James Bond film The Living Daylights is released in the US, featuring Timothy Dalton as 007.
August 29: Retired 007 actor, Roger Moore hosts Happy Anniversary 007: 25 Years of James Bond, an hour-long television documentary on the history of Bond for the 25th anniversary of the film series.[10]
September: Publisher Domark Software releases the platform game The Living Daylights (based on the eponymous film) for Amiga, Amstrad CPC, Amstrad PCW, Atari 8-bit, BBC Micro, Commodore 64, MSX, and ZX Spectrum platforms.[11][12]
1988
The speedboat racing game Live and Let Die (based on the 1973 film) is released for Amiga, Atari ST, Amstrad CPC, Commodore 64, MS-DOS, and ZX Spectrum platforms. It is developed by Elite Systems International and published by Domark Software.[13]
1989
April 20: The top-down shooter game Licence to Kill (based on the upcoming film) is released for a variety of contemporary platforms, developed by Quixel and published by Domark Software.
July 14: Licence to Kill is released in the USA. This would be Timothy Dalton's second and final portrayal of James Bond on-screen.
1990s
1990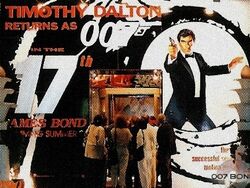 August: Veteran screenwriter Richard Maibaum and director John Glen leave Eon Productions on 'amicable' terms amid trade press reports of a "bloodless coup".[14]
Production on the 17 Bond picture begins, Alfonse M. Ruggiero produces a 17-page draft.[15]
MGM/UA is sold to Pathé Communications. Danjaq, the Swiss based parent company of Eon, sues MGM/UA and its new chairman to protect the TV distribution rights of the series from being devalued. These legal disputes engendered a several year hiatus in the series.
The top-down shooter game The Spy Who Loved Me (an adaptation of the 1977 film) is released for a variety of contemporary platforms, developed by The Kremlin and published by Domark.
Delphine Software International's adventure video game Operation Stealth is released with the James Bond licence in North America[16], branded James Bond 007: The Stealth Affair.
1991
30 September: Debut of the spin-off animated television series James Bond Jr. which followed the adventures of Bond's nephew. It would run until 2 March 1992 with a total of 65 half-hour episodes produced.
1992
1993
1994
April 11: Timothy Dalton formally announces his resignation from the role of James Bond.[8]
June 8: Pierce Brosnan is introduced to the world as the new 007.
1995
January: Production begins on Bond 17 at Leavesdon Studios (then EON Studios).[15]
November 17: GoldenEye, the 17th Bond film and the first to star Pierce Brosnan, is release in the USA.
1997
August 23: Japanese release of GoldenEye 007, a first-person shooter video game developed by Rare and published by Nintendo for the Nintendo 64. The iconic game was based on the 1995 film of the same name.
October 13: Kevin McClory and Sony Pictures Entertainment Company (SPE) announce their intention to remake Thunderball for a second time. The rumored title would be Warhead 2000.
1998
1999
March 30: Kevin McClory's Warhead 2000 AD project is officially terminated after Metro-Goldwyn-Mayer obtains the film rights to Casino Royale from Sony Pictures Entertainment for $10 million in the out-of-court settlement of a law suit.
November 16: North American release of Tomorrow Never Dies, a third-person shooter stealth video game based on the 1997 film of the same name. Developed by Black Ops Entertainment and published by Electronic Arts, it was released exclusively for the Sony PlayStation.
November 19: The World Is Not Enough, the 19th film in the official James Bond series, is released in the USA.
August 17: Q actor Desmond Llewelyn launches the James Bond 007: A License To Thrill simulator ride (now named 007: Licence to Thrill) at the London Trocadero at Piccadilly Circus.[22][21]
December 1: The final location of the James Bond 007: A License To Thrill attraction opens Fox Studios Australia in Sydney, now named 007: License to Thrill.[21]
2000s
2000
2001
2002
2003
Release of 007 Hover Chase, a racing video game developed by IOMO and published by Vodafone for mobile phones. Based on the pre-title hovercraft action sequence from the 2002 film Die Another Day.
2004
February 17: North American release of Everything or Nothing, a third-person shooter video game developed by EA Redwood Shores and published by Electronic Arts for the PlayStation 2, Xbox, and Nintendo GameCube video game consoles. It would be Pierce Brosnan's last time in the role of 007.
July: Pierce Brosnan announces that he is leaving the role, stating "Bond is another lifetime, behind me".
November 22: North American release of GoldenEye: Rogue Agent, an alternate-reality, first-person shooter video game developed by EA Los Angeles and published by Electronic Arts for the PlayStation 2, Xbox,Nintendo GameCube, and Nintendo DS video game consoles.
2005
June 21: The quote "Bond. James Bond," is declared as the 22nd greatest film quote of all time by the American Film Institute.
October 14: After considering more than 200 actors from around the world for over two years, Eon Productions officially name Daniel Craig as the sixth actor to portray 007, taking over from Pierce Brosnan. The actor arrives at a press conference in London by speedboat.[23]
2006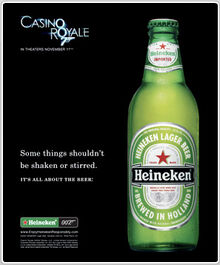 November 14: The twenty first official film, Casino Royale, is released starring Daniel Craig as 007. This version is a reboot the film series, establishing a new timeline and narrative framework not meant to precede or succeed any previous Bond film.[26][27] However, it is still remains a part of the official Bond film franchise produced by Eon Productions.[28]
2007
2008
2010s
2010
Skyfall, then known by the working title Bond 23, was suspended throughout 2010 because of MGM's financial troubles.
December 21: Bond 23 resumes pre-production.
2011
2012
October 23: Skyfall is premiered in London, becoming the twenty third Eon James Bond film.
2013
January 4: Activision and Steam's online stores quietly remove online copies and pages for Quantum of Solace, Blood Stone, and 007 Legends without explanation or warning.
February 20: Activision confirms that it will be backing away from licensed games.[32]
2014
2015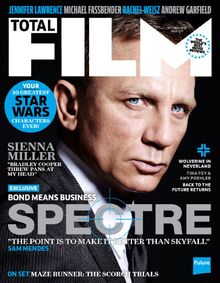 October 26: Spectre has its official premier at the Royal Albert Hall in London. It becomes the twenty fourth James Bond film.
Following the 2015 release of Spectre, Sony Pictures Entertainment's contract to market and distribute the James Bond films expires. Reportedly, Sony, Warner Bros, Annapurna, Fox and Universal are all pursuing distribution rights to the franchise, valued at between $2bn and $5bn (£1.5bn-£3.8bn), according to Hollywood Reporter.[34][35]
2016
December 30: Glu Mobile shuts down the James Bond: World of Espionage servers.
2017
July 24: Official announcement of Bond 25 with an intended US release date of November 8, 2019 with traditional earlier releases in the UK etc. Writers Neal Purvis and Robert Wade are announced to be returning, along with producers Michael G. Wilson and Barbara Broccoli.[36]
August 15: Speaking on American talk show The Late Show with Stephen Colbert actor Daniel Craig ends speculation and confirms he will play the Bond for a fifth and final time. Craig's renewed enthusiasm for the role marks a change of mind after comments he made in 2015, which he explained as the product of exhaustion.[37]
References
Ad blocker interference detected!
Wikia is a free-to-use site that makes money from advertising. We have a modified experience for viewers using ad blockers

Wikia is not accessible if you've made further modifications. Remove the custom ad blocker rule(s) and the page will load as expected.