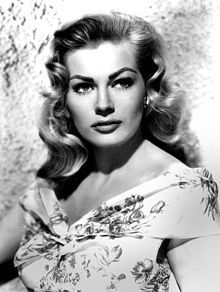 Kerstin Anita Marianne Ekberg[1] (29 September 1931 – 11 January 2015) was a Swedish actress, model, and sex symbol. She is best known for her role as Sylvia in the Federico Fellini film La Dolce Vita (1960).[2] Ekberg worked primarily in Italy to which she became a permanent resident in 1964.[3]
In the movie From Russia with Love, she is on a big poster ( Call Me Bwana ), and her mouth is a private escape hatch of Krilencu.
Kerim : She has a lovely mouth, that Anita.
Bond: Yes, I see what you mean.
Ad blocker interference detected!
Wikia is a free-to-use site that makes money from advertising. We have a modified experience for viewers using ad blockers

Wikia is not accessible if you've made further modifications. Remove the custom ad blocker rule(s) and the page will load as expected.