Aristotle Kristatos (Αριστοτέλης Κριστάτος) is a Greek smuggler and intelligence informant who appears in the Ian Fleming short story Risico and the 1981 film, For Your Eyes Only. The role was played by Julian Glover.
Film biography
Background
Generally regarded as a hero for his bravery in World War II and the Greek Civil War that followed, Kristatos was actually a double agent during both conflicts. Though he appeared to be a respectable businessman in the years thereafter, he was in fact a heroin smuggler and a Soviet agent. He developed a blood feud with rival smuggler Milos Columbo, whom he had served with, and betrayed, during the war.
The ATAC
While operating in the Ionian Sea, the British spy ship St. Georges is sunk by an old mine hauled up in its fishing nets. The ship was equipped with ATAC (Automatic Targeting Attack Communicator); a device which controls and co-ordinates Britain's nuclear submarine fleet. Marine archaeologist, Sir Timothy Havelock, is hired by the British Secret Service to locate the wreck of St. Georges. In a bid to steal the ATAC and deliver it to the Soviets, Kristatos has Havelock murdered by Cuban hitman Hector Gonzales (Stefan Kalipha); attracting the attention of James Bond and Havelock's vengeful daughter Melina.
Bond travels to the Italian ski resort of Cortina in pursuit of henchman Emile Leopold Locque and is introduced to Kristatos through Luigi Ferrara as a 'very reliable' contact. Unaware that Locque is Kristatos' enforcer, Bond is led to believe that he is employed by rival smuggler, Milos Columbo. He proceeds to frame Columbo for his various crimes, hoping that Bond will kill him.
As the pair watch Kristatos' protégée, figure skater Bibi Dahl, he becomes strangely emotional, telling Bond that it would be the happiest day of his life if Bibi were to win the Gold medal.
Downfall
Having secretly recorded one of their conversations while dining at his restaurant, Columbo captures Bond and explains that Locque is actually hired by Kristatos, who is working for the KGB to retrieve the ATAC. Bond accompanies Columbo and his crew on a raid at one of Kristatos' opium-processing warehouses in Albania, where Bond uncovers naval mines similar to the one that sank the St Georges, suggesting it was not an accident. After the facility is destroyed, Bond chases Locque and kills him.
Bond meets with Melina, and they recover the ATAC from the wreckage of the St Georges, but Kristatos is waiting for them when they surface and he takes the ATAC.
"You have shot your last bolt, Miss Havelock!
[to a henchman] Oh, leave the legs free. They'll make appetizing bait."
― Kristatos oversees preparations for the keel-hauling.
After the two escape an assassination attempt, they discover Kristatos' rendezvous point when Melina's parrot repeats the phrase "ATAC to St. Cyril's".
Death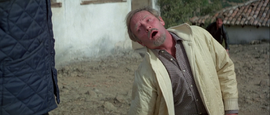 With the help of Columbo and his men, Bond and Melina infiltrate St. Cyril's, an abandoned mountaintop monastery. As Bond brawls with Kristatos' KGB associate Erich Kriegler (John Wyman), the smuggler attempts to escape with the ATAC. Fleeing towards the KGB helicopter, he is confronted and set upon by Columbo. As the two brawl, the device is knocked from his hands into the path of Bond, who takes possession of the ATAC and pleads with Melina not to kill the man. Taking advantage of the distraction, Kristatos slowly extracts a flick knife from his coat pocket. Before he can stab Bond he is struck in the back by a knife thrown by Columbo and collapses dead.
Henchmen & Associates
Behind the scenes
Julian Glover had been shortlisted as a possible Bond for Live and Let Die, eventually losing out to Moore.[1] Producer Michael G. Wilson stated that "when we first thought of him he was too young, and by the time of For Your Eyes Only he was too old.[2] Glover would go on to appear opposite previous Bond Sean Connery, A View to a Kill actress Alison Doody and The Living Daylights actor John Rhys-Davies in Indiana Jones and the Last Crusade, as Nazi sympathiser Walter Donovan.[3]
Images
References
See also