The Arsenal Firearms LRC-2 was a Russian and Italy pistol and a gadget that was used by James Bond in the film Spectre.
Specfications: 
Production: 2015-present
Type: Pistol (converted to the rifle)
Weight: (24.69 oz)
Length: 300 mm (12 inch)
Barrel Length (s): 5" (12)
Capacity: 17+1 rounds
Fire modes: Semi-Auto
Description
This LRC-2 is the pistol rifle that is a fab defense extension with the 300 mm (12 inch) steinless steel barrel available in 9 luger only that shoots fast and aims more accurate for the long range accuracy shooting for the first time with an standard type. The LRC-2 features a in-line barrel in the front and it's attached with the Arsenal Firearms AF-1 pistol and included the locking system allows you to switch the firing rate of the 12 inch barrel. This LRC-2 mounts the scoped optic sights, red dots, collimators and night visions allowing 100% shots for accuracy.In SPECTRE's Opening sequence it has the blue laser aiming device and a silencer to take out Sciarra's henchmen from the penthouse in Mexico.
Gallery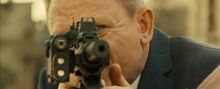 Ad blocker interference detected!
Wikia is a free-to-use site that makes money from advertising. We have a modified experience for viewers using ad blockers

Wikia is not accessible if you've made further modifications. Remove the custom ad blocker rule(s) and the page will load as expected.