Oh, and missed you, did they? What a pity!


This article has been marked as a candidate for deletion. Give your opinion on this article's talk page. Admins should check what links here and the the page history before making the decision to delete this article.
"I'm afraid your interview with Miss Malprave is delayed.In the meantime you can enjoy the view."
― Babe speaking to Bond.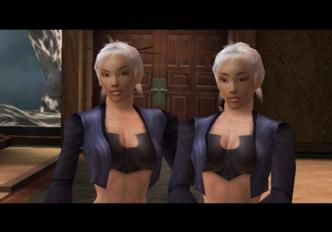 Babe is a minor character in the 2001 videogame Agent Under Fire. She is voiced by Lois Wong.  
Biography
Bella and Babe are Asian twins who are assistants of Adrian Malprave and are only seen one time in the game Agent Under Fire. They are workers who assist Malprave in appointments. When they are seen in the game, they are shown saying that Bond's interview with Malprave has been delayed and they are actually hiding the fact they are telling Malprave Bond has sneaked into her Switzerland base. Suprisingly, one of the two shows up in the game's multiplayer it is not known which one. The status of their death's is unclear, they probaly defected from Malpave's organization long before she got shot and killed by Bond.