Short Story
—
Film
—
Soundtrack
—
Song
—
Game
—
Characters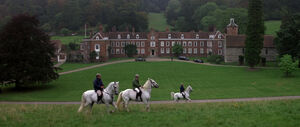 Blayden House is an MI6 safe-house located in the idyllic English countryside. It appears in the 1987 James Bond film The Living Daylights. External shots of the building and surrounding grounds were filmed at Stonor House in Oxfordshire, England.
The house serves as the safehouse for Georgi Koskov after his defection to the British. MI6 has set up high security standards: Vehicles arriving at the house have to pass the first security checkpoint at the main gate. At the main entrance, an agent disguised as a gardener guards the door - even Bond has to hand him his Walther PPK. The gardener's tools are in fact a modern communiction system, with a leaf rake serving as an antenna. A grey Range Rover with spotlights and a bullbar patrols the area around the main building together with a grey Rover 800 sedan. The butlers inside the house are also agents, with good combat skills and equipped with radios and revolvers. Other agents inside the building are armed with Uzis.
Ad blocker interference detected!
Wikia is a free-to-use site that makes money from advertising. We have a modified experience for viewers using ad blockers

Wikia is not accessible if you've made further modifications. Remove the custom ad blocker rule(s) and the page will load as expected.