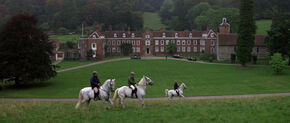 Blayden House is a fictional MI6 safe-house located in the idyllic English countryside. The historic estate appears in the 1987 James Bond film The Living Daylights and was later obliquely referenced in the Skyfall segment of the 2015 mobile game James Bond: World of Espionage, although notably spelled Bladen House.
Appearances
The Living Daylights
During the events of The Living Daylights, the historic country house and estate serves as the safe-house and debriefing location for Georgi Koskov after his defection to the British. The location was well-protected: vehicles arriving at the house had to pass the first security checkpoint at the main gate. At the main entrance to the house itself, an operative dressed as a gardener stood guard with a metal detector (disguised as an ordinary rake)[1]. Visitor firearms were prohibited beyond that point; even 007's Walther PPK was confiscated. A grey Range Rover with spotlights and a bull-bar patrolled the area around the main building, together with a grey Rover 800 sedan. The serving staff inside the house were also capable agents, equipped with radios and revolvers. Other MI6 men inside the building were armed with Uzi submachine guns.
James Bond: World of Espionage
In the 2015 mobile game James Bond: World of Espionage, Bladen House is an MI6 safe house located in London. During a series of missions loosely based on the events of Skyfall, the safe house is hit by the mercenary Patrice and a hard drive containing details of undercover spies is stolen. Arriving at the Bladen safe house, James Bond and Eve Moneypenny find a dying colleague and give chase after the fleeing mercenary through a busy market in Notting Hill.
Trivia
For The Living Daylights, external shots of the building and surrounding grounds were filmed at Stonor House in Oxfordshire, England.
Images
References