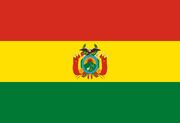 Bolivia
is a country located in South America. It first appears in
Quantum of Solace
.
History
As a democratic republic, Bolivia is a developing country, with a Medium Human Development Index score, and a poverty level of 53%. Bolivia is unfortunate for its very poor water supply and its vast regions of desert in the southwest, the Atacama desert.
Trivia
In Quantum of Solace, Panama City was used to film both Haiti and Bolivia.
Ad blocker interference detected!
Wikia is a free-to-use site that makes money from advertising. We have a modified experience for viewers using ad blockers

Wikia is not accessible if you've made further modifications. Remove the custom ad blocker rule(s) and the page will load as expected.