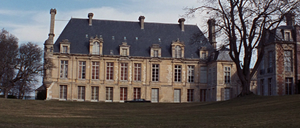 Bouvar's château was the residence of SPECTRE assassin and board-member Jacques Bouvar (Number 6). The building, a 14th century French château, appeared in the pre-title sequence of the 1965 James Bond film Thunderball.
Trivia
Filming of Thunderball commenced on 16 February 1965, with principal photography of the opening scene in Paris. Filming then moved to the Château d'Anet, near Dreux, France for the fight in pre-credit sequence.[1]
References
↑ (1995) The Thunderball Phenomenon. Thunderball Ultimate Edition DVD, Region 2, Disc 2: MGM/UA Home Entertainment.

 
Ad blocker interference detected!
Wikia is a free-to-use site that makes money from advertising. We have a modified experience for viewers using ad blockers

Wikia is not accessible if you've made further modifications. Remove the custom ad blocker rule(s) and the page will load as expected.