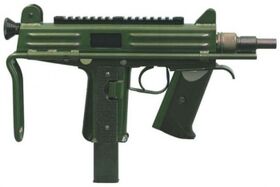 The Saab Bofors Dynamics CBJ-MS is a personal defense weapon/submachine gun manufactured by Saab Bofors Dynamics for Sweden. It is chambered for both 6.5×25 CBJ and 9×19mm Parabellum cartridges. The "Dynamiks PTJ-20", a semi-fictional firearm modelled on the CBJ-MS, renamed and lacking identifying trademarks, appeared in the 2012 James Bond video game 007 Legends.
Video-game appearances
The CBJ-MS is an smg in 007: Legends. It holds a 24 round magzine and is fully automatic.
Images
References
Ad blocker interference detected!
Wikia is a free-to-use site that makes money from advertising. We have a modified experience for viewers using ad blockers

Wikia is not accessible if you've made further modifications. Remove the custom ad blocker rule(s) and the page will load as expected.