Novel
—
Film
—
Graphic Novel
—
Soundtrack
—
Song
—
Characters
—
Location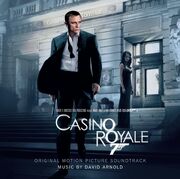 In 2006 with the release of the film Casino Royale, the Casino Royale soundtrack was also released.
Track listing
"African Rundown" (6:52)
"Nothing Sinister" (1:27)
"Unauthorized Access" (1:08)
"Blunt Instrument" (2:22)
"CCTV" (1:30)
"Solange" (0:59)
"Trip Aces" (2:06)
"Miami International" (12:43)
"I'm the Money" (0:27)
"Aston Montenegro" (1:03)
"Dinner Jackets" (1:52)
"The Tell" (3:23)
"Stairwell Fight" (4:12)
"Vesper" (1:44)
"Bond Loses It All" (3:56)
"Dirty Martini" (3:49)
"Bond Wins It All" (4:32)
"The End of an Aston Martin" (1:30)
"The Bad Die Young" (1:18)
"City of Lovers" (3:30)
"The Switch" (5:07)
"Fall of a House in Venice" (1:53)
"Death of Vesper" (2:50)
"The Bitch Is Dead" (1:05)
"The Name's Bond... James Bond" (2:49)
Trivia
The Casino Royale soundtrack is notable as the first in the James Bond franchise not to include the film's theme song ("You Know My Name"). The song was, however, made available as a single.
Ad blocker interference detected!
Wikia is a free-to-use site that makes money from advertising. We have a modified experience for viewers using ad blockers

Wikia is not accessible if you've made further modifications. Remove the custom ad blocker rule(s) and the page will load as expected.