Ad blocker interference detected!
Wikia is a free-to-use site that makes money from advertising. We have a modified experience for viewers using ad blockers

Wikia is not accessible if you've made further modifications. Remove the custom ad blocker rule(s) and the page will load as expected.

Novel
—
Film
—
Soundtrack
—
Song
—
Characters
—
Location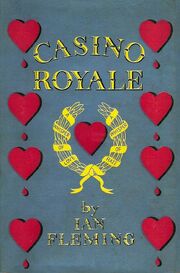 Casino Royale is Ian Fleming's first James Bond novel. It paved the way for a further eleven novels by Fleming himself, in addition to two short story collections, followed by many "continuation" Bond novels by other authors. The story entails James Bond, Agent 007 of the "Secret Service", travelling to the casino at Royale-Les-Eaux in order to bankrupt a fifth-columnist, Le Chiffre, the treasurer of a French union and a member of the Russian secret service. Bond is supported in his endeavours by Vesper Lynd, a member of his own service, as well as Felix Leiter of the CIA and René Mathis of the French Deuxième Bureau.
Since it was first published on 13 April 1953, Casino Royale has been adapted for the screen three times. The first was a 1954 episode of the CBS television series Climax! with Barry Nelson as CIA agent "Jimmy Bond". The first Casino Royale film was a 1967 spoof with David Niven playing "Sir James Bond", with the second being the twenty-first official film in the Eon Productions film series with Daniel Craig as James Bond, released on 17 November 2006.
Versions
Casino Royale (2006) - The twenty-first film in the Eon James Bond film series and the first to star Daniel Craig as fictional MI6 agent James Bond. Directed by Martin Campbell and written by Neal Purvis, Robert Wade and Paul Haggis, the film marks the third screen adaptation of Ian Fleming's 1953 novel of the same name, which was previously produced as a 1954 television episode and a 1967 satirical film.

Casino Royale is set at the beginning of Bond's career as Agent 007, just as he is earning his licence to kill. After preventing a terrorist attack at Miami International Airport, Bond falls for Vesper Lynd, the treasury employee assigned to provide the money he needs to bankrupt terrorist financier Le Chiffre by beating him in a high-stakes poker game. The story arc continues in the following Bond film, Quantum of Solace (2008).

Casino Royale (1967) - A 1967 comedy spy film originally produced by Columbia Pictures starring an ensemble cast of directors and actors. It is set as a satire of the James Bond film series and the spy genre, and is loosely based on Ian Fleming's first James Bond novel.The film stars David Niven as the original Bond, Sir James Bond 007. Forced out of retirement to investigate the deaths and disappearances of international spies, he soon battles the mysterious Dr. Noah and SMERSH.
Casino Royale (1954) - The 1954 television adaptation of the novel of the same name by Ian Fleming. The show is the first screen adaptation of a James Bond novel and stars Barry Nelson and Peter Lorre. Though this marks the first onscreen appearance of the character of James Bond, Nelson's character is played as an American agent with "Combined Intelligence" and is referred to as "Jimmy" by several characters.