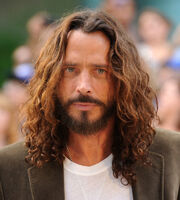 Chris Cornell (born
Christopher John Boyle
; July 20, 1964 - May 17, 2017) was an American rock musician best known as the lead vocalist and rhythm guitarist for Soundgarden and as the former lead vocalist for Audioslave. 
Chris sung the the theme song to the James Bond film, Casino Royale (2006), You Know My Name.
Ad blocker interference detected!
Wikia is a free-to-use site that makes money from advertising. We have a modified experience for viewers using ad blockers

Wikia is not accessible if you've made further modifications. Remove the custom ad blocker rule(s) and the page will load as expected.