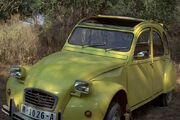 The Citroën 2CV is a hire car featured in the 1981 film For Your Eyes Only.
History
After Bond's Lotus Turbo Esprit explodes he has to use Melina Havelock's 2CV to escape the henchmen of Hector Gonzales and Locque.
Ad blocker interference detected!
Wikia is a free-to-use site that makes money from advertising. We have a modified experience for viewers using ad blockers

Wikia is not accessible if you've made further modifications. Remove the custom ad blocker rule(s) and the page will load as expected.