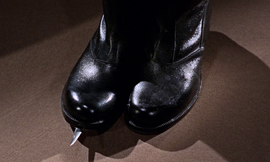 Dagger shoes were an assassination tool consisting of a short, retractable, poison-coated spike embedded in the tip of an assassin's shoe. The weapon first appeared in the 1957 novel From Russia, with Love and was subsequently seen in its 1963 film adaptation. The device also made an appearance during the 2002 film Die Another Day and the 2005 video game From Russia with Love.
Background
"Out of Bond's sight, and not noticed by Mathis, who was still examining her face, the toe of one shiny buttoned boot pressed under the instep of the other. From the point of its toe there slid forward half an inch of thin knife blade. Like the knitting needles, the steel had a dirty bluish tinge."
― Ian Fleming, From Russia, with Love.
In the novel From Russia, with Love, a weapon of this type is used by SMERSH operative Rosa Klebb, as part of a last-ditch effort to kill Bond. After failing to kill him with a gun hidden in a telephone, she successfully poisons him by means of a Tetrodotoxin-coated blade hidden in her shoe. The novel ends with Bond collapsing to the floor; Fleming had intended to end the series at that point with Bond's death. In the subsequent novel Dr. No it is revealed that the blade was coated with fugu poison derived from the sex organs of the Japanese globe-fish.
In the 1963 film adaptation the weapon is utilized on several occasions by SPECTRE operatives. After his plan to humiliate and kill Bond failed, Kronsteen became the first victim of the knife shoe. As Kronsteen and Klebb stood in front of Blofeld's desk, Morzeny approached from behind and kicked the man with his blade-tipped boot. After the man collapsed dead twelve seconds later, Blofeld comments that they need to develop a faster-working venom. Towards the end of the film, a cornered Klebb attempted to kill Bond with a blade embedded in her shoe, but failed when she was shot by Tatiana Romanova.
The shoe would also return briefly in the Q-Branch lab scene during 2002's Die Another Day alongside other previous Bond gadgets. It would also reappear in the 2005 video-game adaptation of From Russia with Love.
References