Novel
—
Film
—
Radio drama
—
Comic
—
Soundtrack
—
Song
—
Characters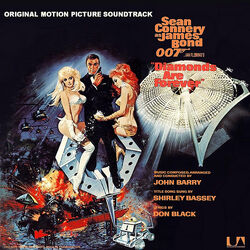 "Diamonds Are Forever" was the second James Bond theme to be performed by Shirley Bassey, after "Goldfinger" in 1964. Bassey would later return for a third performance for 1979's "Moonraker".
The original soundtrack was once again composed by John Barry. This was the sixth time he had composed music for a James Bond film.
Bond producer Harry Saltzman reportedly hated the song because he felt the lyrics (written by lyricist Don Black) were "too dirty."
The title song was later sampled by Chicago rapper Kanye West for a single titled "Diamonds from Sierra Leone."
Track listing
Diamonds Are Forever (Main Title) - Shirley Bassey
Bond Meets Bambi And Thumper
Moon Buggy Ride
Circus, Circus
Death At The Whyte House
Diamonds Are Forever (Source Instrumental)
Diamonds Are Forever (Bond And Tiffany)
Bond Smells A Rat
Tiffany Case
007 And Counting
Q's Trick
To Hell With Blofeld
Gunbarrel and Manhunt
Mr.Wint and Mr.Kidd/Bond To Holland
Peter Franks
Airport Source/On The Road
Slumber, Inc.
The Whyte House
Plenty, Then Tiffany
Following The Diamonds
Additional and Alternate Cues