Novel
—
Film
—
Comic
—
Soundtrack
—
Song
—
Characters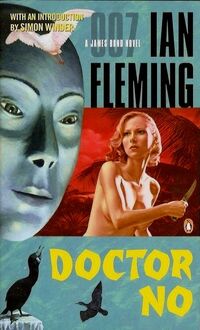 Dr. No (sometimes published as Doctor No) is the sixth James Bond novel by Ian Fleming, originally published in 1958. The novel was adapted as the first official Bond film in 1962, the success of which would lead to a popular, long, and continuing series of films made by EON Productions.
The novel
The novel marks the first time a number of James Bond signature elements are used. It is the first novel in which Bond uses his signature Walther PPK handgun and also the first time Major Boothroyd (also known as Q, the armourer) appears, although Bond's first gadget was in the previous novel, From Russia with Love.
The plot of the novel and the film are very similar, only differing when elements from the previous novels are referenced, primarily From Russia with Love and Live and Let Die.
Summary

From Russia with Love ended in a cliffhanger with the status of James Bond unknown. Bond was poisoned by SMERSH agent Rosa Klebb and collapsed at the end of the novel. In Dr. No, M learns from the firm's neurologist that the poison was tetrodotoxin, which is obtained from the sex organs of the Japanese fish fugu. Tetrodotoxin paralyses the muscles of the victim while they stay fully conscious until eventually they die from asphyxiation. Bond is given first aid treatment by his friend, Rene Mathis, whilst a doctor is summoned. The doctor had spent time in Africa and had dealt with various poisons. He diagnoses curare poisoning and treats Bond accordingly. Even to date, there is no current antidote and the chances of survival are very slim.
Nonetheless, Bond survives. When he returns to duty, he is sent by M on a "rest cure" to Jamaica to investigate the disappearance of Strangways, the head of station in Kingston, who had previously appeared in Live and Let Die. Bond learns that Strangways had been investigating the activities of Dr. Julius No, a Chinese-German who lives on an island called "Crab Key" that is said to be the home of a vicious dragon.
With help of the returning character, Quarrel (previously in Live and Let Die), as well as the beautiful Honeychile Rider, who visits the island to collect valuable shells, Bond discovers that Dr. No, who ostensibly operates a business harvesting and exporting guano, is in fact working with the Russians. They have supplied him with several million dollars worth of equipment to sabotage nearby American missile tests. Bond and Honeychile are captured by Dr. No, but Quarrel is burned to death by the (mechanical) dragon. Doctor No's speciality is torture and he tortures Bond to discover and record his powers of endurance. But Bond survives, rescues Honey and kills Doctor No.
Comic strip adaptation
Main article: Dr. No (comic)
Dr. No was adapted into comic strip form in 1960.
Popular culture
In a Star Trek: Deep Space Nine episode, "Our Man Bashir", a holographic programme clearly based on James Bond features a villain named "Dr. Noah".
Politicians Tom Brinkman, Ron Paul, and Ian Paisley have all earned the nickname "Dr. No" for their idiosyncratic views and frequent votes against new legislation.
In the song "Everybody Hates Ned Flanders", Homer Simpson claims Dr. No is better than Nedward Flanders.
External links