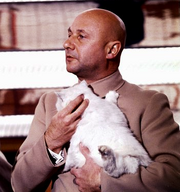 Ernst Stavro Blofeld is a fictional character and a supervillain from the James Bond series of novels and films, who was created by Ian Fleming and Kevin McClory. An evil genius with aspirations of world domination, he is the archenemy of the British Secret Service agent James Bond and is head of the global criminal organisation SPECTRE.
Blofeld initially appeared in six James Bond films from Eon Productions: From Russia with Love (1963), Thunderball (1965), You Only Live Twice (1967), On Her Majesty's Secret Service (1969), Diamonds Are Forever (1971) and For Your Eyes Only (1981) (the pre-title sequence of which marks his final appearance and the apparent death of this version of the character). Blofeld also appears in Never Say Never Again, the 1983 Warner Brothers remake of Thunderball. An updated version of the character made his return to the Eon series in the 2015 film SPECTRE.
He was played on screen by Donald Pleasence, Telly Savalas, Charles Gray, Max von Sydow and Christoph Waltz, among others. It was initially a convention of the films not to show Blofeld's face, only a closeup of him stroking his white blue-eyed Turkish Angora.
Portrayals
Edit