Ad blocker interference detected!
Wikia is a free-to-use site that makes money from advertising. We have a modified experience for viewers using ad blockers

Wikia is not accessible if you've made further modifications. Remove the custom ad blocker rule(s) and the page will load as expected.

Game
—
Soundtrack
—
Song
—
Characters
—
Equipment

The vocal theme for the game, simply entitled "Everything or Nothing", was sung by Mýa. The song combines a haunting vocal performance with an upbeat electro backing. Everything or Nothing was the second James Bond game to have its own original theme song but the first to be sung by a well-known singer, Mýa also has a part as a Bond girl in the game.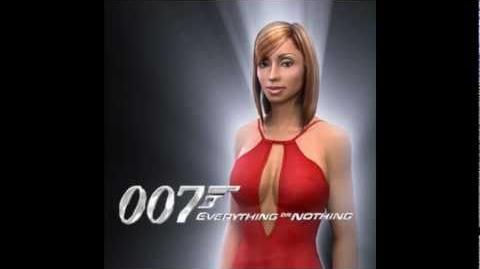 Lyrics
Yeah, yeah
Time don't wait for no one,
So my heart and my time I refuse to waste,
You thought you knew the score but,
There's just so much more when you're caught in the race

What is love, without a flame,
(What is love, without a flame),
What's a rose, without a name,
(What's a rose, without a name),
What is pleasure without pain,
It ain't nothing more than an empty space

Give me everything or nothing,
Give me everything or nothing at all,
Everything or nothing,
Give me everything or nothing at all

He thought he knew who love was,
'Til he fell in the arms of another extreme,
But who's to say things can't be changed,
Its your world and tomorrow's not guaranteed

Can't drive a car without the keys,
(Can't drive a car without the keys),
Give me the bowl 'cause a bites just the tease,
What good's the bottom without the top,
(Without the top),
And until I get it all, no, I'm not gonna stop, so

Give me everything or nothing,
(I want it all, I want it all),
Give me everything or nothing at all,
Everything or nothing,
Give me everything or nothing at all

Everything is all that I want,
Everything is all that I want,
Everything is all that I want, I take what I want,
Everything is all that I want,
Everything, I get what I want

Everything or nothing,
(I take what I want),
Everything or nothing,
(I get what I want),
Everything or nothing,
(I take what I want),
Everything or nothing,
(I get what I want)

What is love, without a flame,
(What is love, without a flame),
What's a rose, without a name,
(What's a rose, without a name),
What good's the bottom without the top,
And until I get it all, no, I'm not gonna stop, so

Give me everything or nothing,
Give me everything or nothing at all,
Everything or nothing,
Give me everything or nothing at all

Give me everything,
Everything or nothing at all,
Give me everything,
Give me everything or nothing at all

Everything or nothing,
(I take what I want),
Everything or nothing,
(I get what I want),
Everything or nothing,
(I take what I want),
Everything or nothing,
(I get what I want)

Give me everything or nothing at all