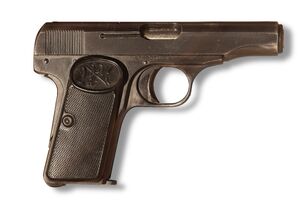 The FN Model 1910 is a Belgian pistol briefly used by James Bond in the film Dr. No. In the film, after having Miss Taro arrested, Bond returned into her home and set a trap by placing pillows under the covers of a bed, hiding behind the door, and then unholstering his Model 1910 and screwing a "Brausch silencer with very little reduction in muzzle velocity" onto it. While waiting, he played patience on the table next to him, also keeping his pistol on the table. When he heard Professor R. J. Dent approaching he grabbed the gun, waiting until after Dent expended all of his rounds firing at the pillows before revealing himself. Bond used the gun to get Dent to drop his weapon and then interrogated him, keeping the pistol pointed in his direction, even as he placed it on his lap to light a cigarette. However, Dent picked up his handgun and tried to shoot Bond, finding it empty. Bond, having already known this, told Dent "That's a Smith and Wesson, and you've had your six." and simply shot him once, causing him to fall over, and then put another round into his back (Bond's first human kill in the films). Afterwards, Bond removed the suppressor from his still-smoking gun and blew on it.
It is likely that the Model 1910 was supposed to be Bond's Walther PP (itself standing in for the PPK), used because the prop department was unable to find a suppressor to fit the PP. After shooting Dent, Bond merely twists and yanks the suppressor from the barrel of the pistol. However, the threads on a threaded barrel are far too fine for such a movement. In reality, the suppressor was fake and had a dowel that slid into the barrel for fitting, which is mentioned in the Dr. No Special Edition DVD. Also, as Dent shoots "Bond" (the pillows in bed) six times, Bond was originally to also shoot Dent six times, one as Dent is sitting down and then another five into his back. However, censors scaled this back to two total shots, with just one to the back.
Specifications
Production: 1910-1983
Type: Pistol
Weight: ca. 590 g
Length: 153 mm
Capacity: 6 rounds (.380), 7 rounds (.32)
Fire Modes: Semi-Auto
Images
Video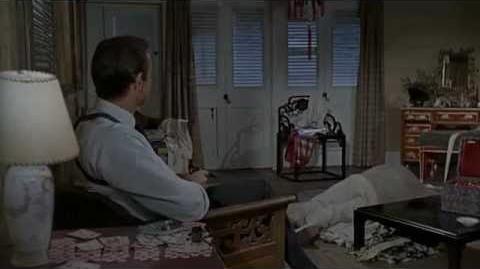 Ad blocker interference detected!
Wikia is a free-to-use site that makes money from advertising. We have a modified experience for viewers using ad blockers

Wikia is not accessible if you've made further modifications. Remove the custom ad blocker rule(s) and the page will load as expected.