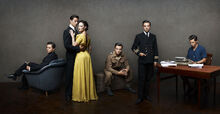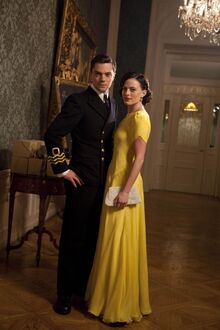 Fleming: The Man Who Would Be Bond is a 4-part miniseries produced and broadcast by BBC America about the life of Ian Fleming. The first episode premiered on January 29, 2014.
The miniseries stars Dominic Cooper at the titular character and showcases his service in the Naval Intelligence during WWII and the events that led him to create the character of James Bond and write 14 James Bond books.
Official synopsis
Fleming: The Man Who Would Be Bond tells the fascinating story of the man whose own life and escapades were the inspiration for one of the most iconic figures in modern literature – James Bond. The new original four-part drama stars Dominic Cooper as Fleming, a charming and sophisticated maverick, whose pleasure-seeking life was turned around by WWII and led to the creation of the greatest spy the world has ever known.
Cast
Dominic Cooper as Ian Fleming
Rupert Evans as Peter Fleming
Lara Pulver as Ann O'Neill
Camilla Rutherford as Loelia
Pip Torrens as Esmond Rothermere
Lesley Manville as Evelyn St. Croix Fleming
Anna Chancellor as Second Officer Monday
Samuel West as Second Admiral John Godfrey
Annabelle Wallis as Muriel Wright
Video
External links