The Flying Saucer was a fictional luxury Superyacht owned by SPECTRE operative Maximillian Largo. The vessel was featured in the unofficial 1983 James Bond film Never Say Never Again and was based on the Disco Volante (from Italian meaning "Flying Saucer") hydrofoil from Ian Fleming's 1962 novel Thunderball and its 1965 official film adaptation of the same name.
Unofficial film appearance
The Flying Saucer is a fictional luxury Superyacht owned by millionaire philanthropist and SPECTRE operative Maximillian Largo. The vessel is utilized as his mobile headquarters during the organization's scheme to steal two cruise missiles and their nuclear warheads; intending to extort billions of dollars from NATO governments. During the course of the operation, the Flying Saucer is first active in the Bahamas, before mooring in Nice, France. It is there that intelligence operatives James Bond and Felix Leiter attempt to board the motor yacht in search of the missing warheads. Treated as Largo's guest, Bond finds the millionaire's mistress, Domino and attempts to make Largo jealous by kissing her in front of a two way mirror. Largo becomes enraged, traps Bond and takes him and Domino to Palmyra, his base of operations in North Africa. He subsequently collects the second warhead from Palmyra and sets sail for the Ethiopian Coast, where he utilizes the vessel's underwater hatch to covertly deploy scuba divers from the ship - transporting the bomb to the Tears of Allah, a fragile location below a desert oasis.
Gadgets
| | |
| --- | --- |
| | Underwater hatch — As with the Disco Volante, the vessel is equipped with a concealed opening on the side of its hull, below the waterline, giving access to the water outside. The hatch allows divers and equipment to be covertly deployed from the ship. |
| | Observation room — Located off the main operations room, the observation room is a small private office with computer terminal, utilized by Largo to conduct his work and spy on his mistress, Domino Petachi. In addition to its sliding two-way mirror, covert listening devices relay the sound from the adjacent exercise room. |
Behind the scenes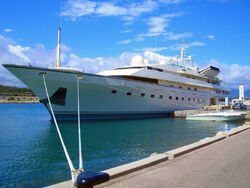 For Never Say Never Again, the unofficial film adaptation of the novel Thunderball and its source material, the villains' hydrofoil yacht was re-imagined as a luxury superyacht and was renamed The Flying Saucer (the English translation of the Italian name Disco Volante used in the source novel). The 282-foot yacht that was used in long shots for the film was known as the Nabila and was built for Saudi billionaire Adnan Khashoggi. The yacht was later sold to Donald Trump, who renamed it Trump Princess. The boat, now owned by Prince Al-Waleed bin Talal, has subsequently been renamed the Kingdom 5KR.[2] These days Kingdom 5KR can usually be found in Antibes, France or cruising the French Riviera during the summer months.
Gallery
See also
References