Novel
—
Film
—
Radio drama
—
Comic
—
Game
—
Soundtrack
—
Song
—
Characters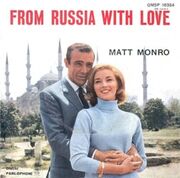 From Russia with Love is the theme song for the film From Russia with Love. It was composed by Lionel Bart, and performed by English singer Matt Monro.
Lyrics
From Russia with love I fly to you,
much wiser since my good-bye to you,
I've traveled the world to learn,
I must return from Russia with love.
I've seen places, faces and smiled for a moment,
but oh, you haunted me so,
Still my tongue tied, young pride,
would not let my love for you show,
in case you'd say no.
To Russia I flew but there and then,
I suddenly knew you'd care again,
my running around is through,
I fly to you from Russia with love.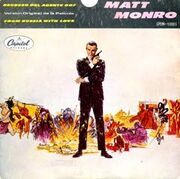 From Russia with Love Title Sequence
Ad blocker interference detected!
Wikia is a free-to-use site that makes money from advertising. We have a modified experience for viewers using ad blockers

Wikia is not accessible if you've made further modifications. Remove the custom ad blocker rule(s) and the page will load as expected.