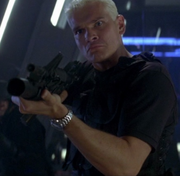 Götz Otto (born October 15, 1967 in Dietzenbach, West Germany) is a German actor who is internationally recognized for his portrayal of the villainous henchman Stamper in the 1997 James Bond film Tomorrow Never Dies (with Pierce Brosnan). His other film and telefilm credits include: Schindler's List(with Ralph Fiennes), Earthquake in New York, Gunblast Vodka, Deep Freeze, Der Untergang (A.K.A. Downfall), Ring of the Nibelungs, Alien Autopsy, Iron Sky and Cloud Atlas (with Halle Berry). He also appeared on the 2010 mini-series "Pillars of the Earth".
Ad blocker interference detected!
Wikia is a free-to-use site that makes money from advertising. We have a modified experience for viewers using ad blockers

Wikia is not accessible if you've made further modifications. Remove the custom ad blocker rule(s) and the page will load as expected.