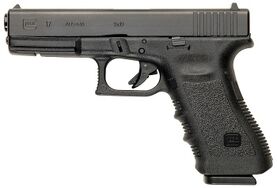 The Glock 18 was similar in many ways to the preceding
Glock 17 production
model though allotted new internals as well as a new slide and frame making it incompatible with the former. One of the key differences between the Glock 18 and Glock 17 was the former's addition of selective fire, allowing for both single-shot, semi-automatic and full-automatic fire modes by way of a two-position selector switch fitted to the left rear side of the slide component. The switch was flipped up for single-shot fire and flipped down for full automatic fire. Externally, however, the two pistols could appear nearly identical to the untrained eye.
The Glock 18 appears the James Bond video game Nightfire as the the "Kowloon Type 80". The K-80 is only available in multiplayer, or as an upgrade for a high score in single player. Other video games and even films have the Glock 17, but not this model.
Ad blocker interference detected!
Wikia is a free-to-use site that makes money from advertising. We have a modified experience for viewers using ad blockers

Wikia is not accessible if you've made further modifications. Remove the custom ad blocker rule(s) and the page will load as expected.