Garbage is an alternative rock band formed in Madison, Wisconsin, in 1994. The group consists of
Scottish
singer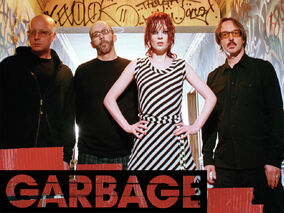 Shirley Manson (vocals, guitar) and American musicians Duke Erikson (bass, guitar, keyboards, percussion), Steve Marker (guitar, keyboards), and Butch Vig (drums, percussion). All four members are involved in songwriting and production. The band have counted worldwide album sales of over 17 million units.
The band sung the theme song for the James Bond film, The World is Not Enough.
Ad blocker interference detected!
Wikia is a free-to-use site that makes money from advertising. We have a modified experience for viewers using ad blockers

Wikia is not accessible if you've made further modifications. Remove the custom ad blocker rule(s) and the page will load as expected.