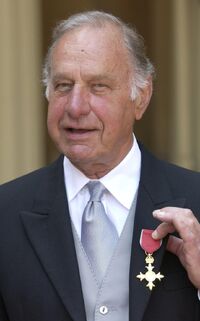 Geoffrey Dyson Palmer, OBE (born 4 June 1927) is an English actor who played Admiral Roebuck in Tomorrow Never Dies.
Palmer is best known for his roles in British television sitcoms playing Jimmy Anderson in The Fall and Rise of Reginald Perrin, Ben Parkinson in Butterflies and Lionel Hardcastle in As Time Goes By.
Trivia
Along with Tomorrow Never Dies, Palmer has also appeared with Judi Dench in the television series As Time Goes By and in the 1997 film Mrs. Brown.