Novel
—
Film
—
Game
—
Soundtrack
—
Song
—
Novelisation
—
Characters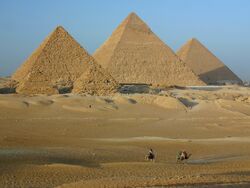 The Giza Pyramid Complex is a famous archaeological site that was featured in the James Bond film The Spy Who Loved Me. This complex of ancient monuments is located on the Giza Plateau on the outskirts of Cairo, Egypt and includes the three pyramids known as the Great Pyramids, the massive sculpture known as the Great Sphinx, several cemeteries, a workers' village and an industrial complex.
Ad blocker interference detected!
Wikia is a free-to-use site that makes money from advertising. We have a modified experience for viewers using ad blockers

Wikia is not accessible if you've made further modifications. Remove the custom ad blocker rule(s) and the page will load as expected.