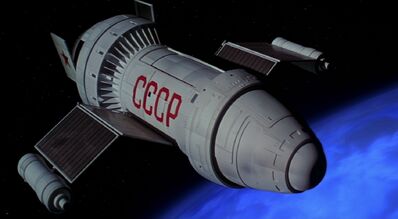 The GoldenEye Satellite was an old Cold War Soviet weapon containing extremely powerful Electro Magnetic tenchnology. It was stolen by the Janus group at the top-secret GoldenEye space weapons facility at Severnaya, Russia where it destroyed a group of Soviet F-16 Fighter Jets and the research station. The tiger helicopter used by Ourumov and Onatopp however was safe from the blast due to its Electro Magnetic Pulse protection design.
James Bond (Pierce Brosnan) says to Alec Trevelyan (Sean Bean) "Interesting set up Alec You hack into the banks, transfer the money electronically and erase the evidence with an E.M.P blast".
He then tells Bond how people's Financial records and the British Economy will be destroyed due to the Satellite to which Bond replies that it's just a high tech bank robbery. It is however destroyed when Natalya reprograms it to destroy itself in the Earth's atmosphere.