Novel
—
Film
—
Radio drama
—
Comic
—
Game
—
Soundtrack
—
Song
—
Characters
Goldfinger (video game) is a 1986 text-based video game developed by Angelsoft, Inc and published by Minscrape, Inc. for computers PC, Macintosh, and Apple II. It is based on the James Bond film Goldfinger.
Gameplay
There were no graphics in this game, as it was a text-based game. Word prompts would appear and the player could type in actions for Bond to perform.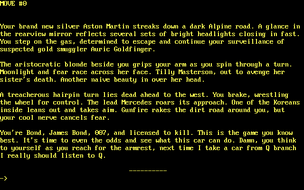 See also
Ad blocker interference detected!
Wikia is a free-to-use site that makes money from advertising. We have a modified experience for viewers using ad blockers

Wikia is not accessible if you've made further modifications. Remove the custom ad blocker rule(s) and the page will load as expected.