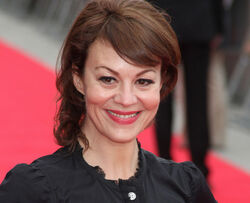 Helen McCrory (born 17 August 1968) is a British actress who played the MP Clair Dowar in the 2012 Bond film Skyfall with Daniel Craig.
McCrory is most well known for playing Cherie Blair in both the 2006 film The Queen and the 2010 film The Special Relationship. She also portrayed Narcissa Malfoy in the final three Harry Potter films. 2011, she starred in Martin Scorsese's family mystery film Hugo as Mama Jeanne.
Ad blocker interference detected!
Wikia is a free-to-use site that makes money from advertising. We have a modified experience for viewers using ad blockers

Wikia is not accessible if you've made further modifications. Remove the custom ad blocker rule(s) and the page will load as expected.