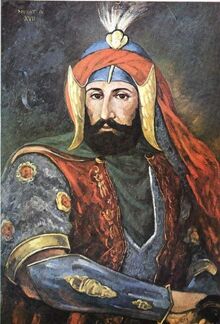 Murad IV (Ottoman Turkish: مراد رابع Murād-ı Rābi'; July 26/27, 1612 – February 9, 1640) was the Sultan of the Ottoman Empire from 1623 to 1640, known both for restoring the authority of the state and for the brutality of his methods. Murad IV was born in Constantinople, the son of Sultan Ahmed I (1603–17) and the ethnic Greek[1][2][3] Valide Kösem Sultan. Brought to power by a palace conspiracy in 1623, he succeeded his uncle Mustafa I (r. 1617–18, 1622–23). He was only 11 when he took the throne.
He was mentioned on the 1963 movie From Russia with Love. In the Saint Sophie Mosque the Tour Guide said about an alabastrom urm that it was brought from Bregama at 1648 by IV Murad. It was used as an ablution fountain. It contains a thousand litres of water.
Ad blocker interference detected!
Wikia is a free-to-use site that makes money from advertising. We have a modified experience for viewers using ad blockers

Wikia is not accessible if you've made further modifications. Remove the custom ad blocker rule(s) and the page will load as expected.