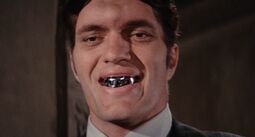 Jaws is a fictional assassin in the James Bond media franchise with stainless steel teeth. He first appeared in the 1977 film The Spy Who Loved Me and made a subsequent appearance in 1979's Moonraker. The character was played by the late actor Richard Kiel. An obvious reference to the 1975 horror/thriller film of the same name, Jaws gets his name both from his enormous size and strong metal teeth that could bite through virtually anything. During filming, Kiel would only wear the metal teeth for a few minutes because they hurt his mouth.
Movies
Video Games
Spin-offs
Ad blocker interference detected!
Wikia is a free-to-use site that makes money from advertising. We have a modified experience for viewers using ad blockers

Wikia is not accessible if you've made further modifications. Remove the custom ad blocker rule(s) and the page will load as expected.