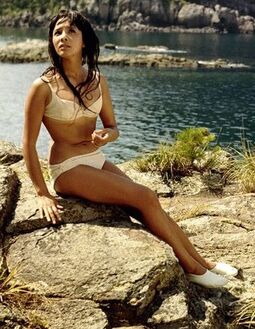 Kissy Suzuki is a fictional character and love interest of James Bond created by author Ian Fleming for the 1964 James Bond novel You Only Live Twice. The character was subsequently adapted for the big screen and appeared in EON Productions' 1967 film You Only Live Twice, portrayed by Japanese actress Mie Hama. Suzuki appeared again in "Blast From the Past", a short story published in 1996 by author Raymond Benson and was later re-imagined for the 2015 mobile game James Bond: World of Espionage, portrayed by an unknown model.
Literary
Movies
Video games
Ad blocker interference detected!
Wikia is a free-to-use site that makes money from advertising. We have a modified experience for viewers using ad blockers

Wikia is not accessible if you've made further modifications. Remove the custom ad blocker rule(s) and the page will load as expected.