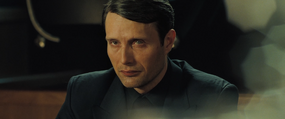 Le Chiffre (French: ​"The Cypher" or "The Number") is a fictional character and main villain who first appears in the Ian Fleming 1953 James Bond novel Casino Royale. He is the first villain Bond encounters as well as the first agent of SMERSH Bond meets and is later mentioned in the 1957 book From Russia with Love.
The character was subsequently adapted, first for a television production of Casino Royale (1954), portrayed by Peter Lorre, and then an unofficial satirical film of the same name (1967) with Orson Welles. EON Productions gained the rights to Casino Royale and the character of Le Chiffre in 1999 after Sony Pictures Entertainment exchanged them for Metro-Goldwyn-Mayer's rights to Spider-Man.[1] Consequently, the character was adapted in 2006 for the official cinematic version of Casino Royale, portrayed by Mads Mikkelsen, who subsequently reprised his role for the 2008 video-game Quantum of Solace and allowed his likeness to be used in 2015's Spectre.
Literary
Movies
Video Games
Unofficial
References
Ad blocker interference detected!
Wikia is a free-to-use site that makes money from advertising. We have a modified experience for viewers using ad blockers

Wikia is not accessible if you've made further modifications. Remove the custom ad blocker rule(s) and the page will load as expected.