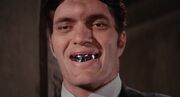 The James Bond novels and films are notable for their memorable villains and henchmen. Each Bond villain has numerous henchmen to do their bidding.
In particular, there is usually a privileged member who is a formidable physical threat to Bond and must be defeated by Bond to get the employer, from simply adept and tough fighters like Red Grant to ones whose physical characteristics are seemingly superhuman like Jaws.
Eon Productions henchmen
From Russia with Love
Goldfinger
Thunderball
You Only Live Twice
On Her Majesty's Secret Service
Diamonds Are Forever
Live and Let Die
The Man With the Golden Gun
The Spy Who Loved Me
Moonraker
For Your Eyes Only
Octopussy
A View to a Kill
The Living Daylights
Licence to Kill
GoldenEye
Tomorrow Never Dies
The World Is Not Enough
Die Another Day
Casino Royale
Quantum of Solace
Skyfall
SPECTRE
Non-Eon henchmen
Casino Royale (1953 TV special)
Basil (Gene Roth)—Shot by Bond
Zoltan (Kurt Katch)—Survives
Valerie Mathis (Linda Christian)—Survives
Casino Royale (1967)
Never Say Never Again
Fatima Blush (Barbara Carrera)—Blown up by pen grenade used by Bond
Lippe (Pat Roach)—Killed by Bond due a chain reaction of events, where Bond throws a urine speciimen in his face, temporarily blinding him and causing him to lose balance and fall into a shelf full of beakers, breaking them. The broken glass apparently severed a vital artery as he bleeds to death.
Kovacks (Milow Kirek)

—Survives
Video game henchmen
007: Agent Under Fire
007: Nightfire
007: Nightfire
GoldenEye: Rogue Agent
Oddjob—Thrown over rail by GoldenEye
James Bond 007: Blood Stone
Henchman
Status
Affiliations
Greco
Unknown
Unknown
Bernin
Deceased (falls to his death after Bond kicks him off a ledge)
Nicole Hunter
Stefan Pomerov
Deceased (sucked out of his ekranoplan by Bond)
Rak
Deceased (plane crash)
Silk
Alive
See also

|}
Ad blocker interference detected!
Wikia is a free-to-use site that makes money from advertising. We have a modified experience for viewers using ad blockers

Wikia is not accessible if you've made further modifications. Remove the custom ad blocker rule(s) and the page will load as expected.