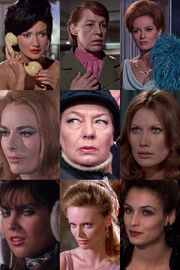 While traditionally a Bond girl is presented as the main female and ally to James Bond or a piece of eye candy for him to meet at some point during the story, while the Bond villains are seen as male, occasionally the material will change it up and have the Bond girl now act as Bond's enemy. Here is a list of female villains and henchwomen in the James Bond series.
Films
Novels
Other
Notes
Villains such as Lupe Lamora and Andrea Anders are actually only mistresses of the main villains but in the end they ally with Bond.
Ad blocker interference detected!
Wikia is a free-to-use site that makes money from advertising. We have a modified experience for viewers using ad blockers

Wikia is not accessible if you've made further modifications. Remove the custom ad blocker rule(s) and the page will load as expected.