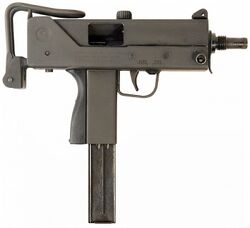 The MAC-10 (Military Armament Corporation Model 10, officially the M-10) is a compact, blowback operated machine pistol developed by Gordon B. Ingram in 1964. It is chambered in either .45 ACP or 9mm. A two-stage suppressor by Sionics was designed for the MAC-10, which not only abated the noise created, but made it easier to control on full automatic (although it also made the gun far less compact and concealable).[1]
The MAC-10 has been featured as a weapon in several James Bond video games, renamed for copyright reasons as the "Ingalls Type-20" in The World is Not Enough (2000) and Agent Under Fire (2001) and the "Mantis" in Quantum of Solace (2008).
Video-game appearances
The MAC-10 appears in the game as the "Ingalls Type-20", and is fitted with a silencer.
Called the "Ingalls Type 20", the MAC-10 is only seen in the "Night of the Jackal" level of the 2001 game Agent Under Fire. It it relatively weak, and not very accurate, but still packs effectiveness in close quarters combat. The instruction manual notes that the Ingalls Type 20 was originally designed for urban police use, the never achieved popularity because of its poor accuracy. It immediately caught on with the criminal underworld, where its lack of finesse was viewed as an advantage rather than a liability. Compared to the Koffler & Stock KS7, the Ingalls still has a higher rate of fire and a larger clip.[2]
The MAC-10 is referred to in-game as the Mantis (a small submarine in For Your Eyes Only). It can be upgraded with a laser, and is one of the most common weapons in the game. The gun appears in these levels: Siena, Science Center, and Venice.
Images
References
↑ Dartford, Mark (ed.) (1985). Modern Warfare. London: Marshall Cavendish Books. ISBN 0-86307-325-5.

 

↑ (2001) Agent Under Fire: Instruction Booklet. Nintendo, p.16.

 
Ad blocker interference detected!
Wikia is a free-to-use site that makes money from advertising. We have a modified experience for viewers using ad blockers

Wikia is not accessible if you've made further modifications. Remove the custom ad blocker rule(s) and the page will load as expected.