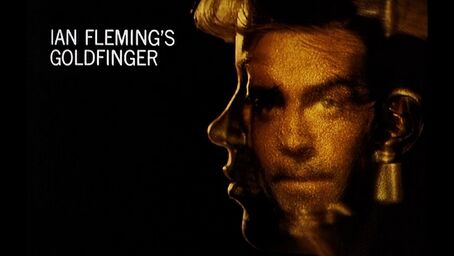 Margaret Nolan is an English actress perhaps best known for her role as as the bikini-clad girl painted gold in the Robert Brownjohn Goldfinger title sequence as well as playing the small role of Bond's masseuse Dink at the Fontainbleu Hotel (where Bond spies on Goldfinger for the first time.)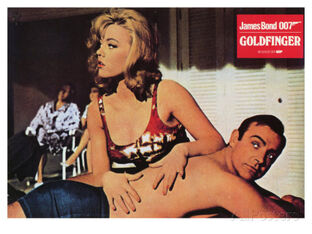 Margaret is the golden girl who appears on the official film poster artwork, the cover of a reprint of the Ian Fleming novel, record sleeves/sheet music books associated with the film as well as toy merchandise. Margaret turned down the request to tour the world as part of the extensive Goldfinger promotional machine, to concentrate on a variety of other film, television and theatre roles, to help establish a solid acting career - an acting career she continued until the late 1980's when she took the decision to move to Spain and focus on family life, nature and rural farming.
On her return to the UK in 2008/9, she began to exhibit photomontage art work in independent galleries. She was however persuaded back into an acting role in 2011 in an independent film 'The Power of Three'. Margaret continues with her artistic pursuits, regularly exhibits work and offers many pieces for sale.
Still a regular at Bond and other film events, she is very proud of her association with the franchise. Despite turning down the role as one of the main promotional glamour girls for Goldfinger, she appreciates the irony that she is mainly remembered for Goldfinger (and possibly just as well remembered for appearances in six films in the other great British film franchise of the time, the hugely successful and still popular 'Carry On' comedy films.)
Official website : http://margaretnolan.co.uk/
Ad blocker interference detected!
Wikia is a free-to-use site that makes money from advertising. We have a modified experience for viewers using ad blockers

Wikia is not accessible if you've made further modifications. Remove the custom ad blocker rule(s) and the page will load as expected.