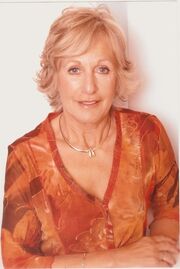 Marolyn Turk has been in the Film & Television Industry for over 30 years, as a performer and crew member. She has worked in some of the best loved films including many Sci ­fi productions. She had extra roles on the Star Wars sequels: The Empire Strikes Back and Return of the Jedi. Maroyn has also appeared in various Bond movies, such as Octopussy, A View to a Kill, The World is Not Enough (as a MI6 agent) and Die Another Day (as an Ice Palace patron). Other extra roles include: Superman I and II, 1989's Batman and Indiana Jones and the Last Crusade. Behind the camera she has been a photo double and stand-in for the likes of Meryl Streep, Glenn Close, Miranda Richardson and Julie Walters.
Gallery
Ad blocker interference detected!
Wikia is a free-to-use site that makes money from advertising. We have a modified experience for viewers using ad blockers

Wikia is not accessible if you've made further modifications. Remove the custom ad blocker rule(s) and the page will load as expected.