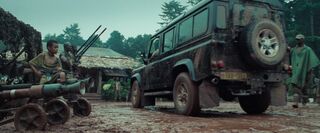 Mbale is a town in south eastern Uganda and the chief town of the Mbale District. It lies 190 km (120 mi.) northeast of Kampala, on the Tororo-Pakwach railway near Mount Elgon. It is known for its nightlife, and has a clock tower in the centre of town. Its 1991 census population was 53,634. Mbale is home to the Islamic University in Uganda. The population includes members of the Gishu ethnic group, mainly the Bamasaaba and Bagisu.
Casino Royale
An early scene in Casino Royale is set in Mbale. James Bond himself is not in the scene. Actually, the scenery does not represent Mbale, as Mbale is a large market-based town in Eastern Uganda. The scene setting is a rainy village akin to those found in the regions surrounding Mbale.
Ad blocker interference detected!
Wikia is a free-to-use site that makes money from advertising. We have a modified experience for viewers using ad blockers

Wikia is not accessible if you've made further modifications. Remove the custom ad blocker rule(s) and the page will load as expected.