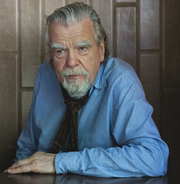 Michael Lonsdale (born May 24, 1931), sometimes billed as Michel Lonsdale, is a
French
actor who has appeared in over 180 films and television shows.
Lonsdale was born in Paris and raised by a French mother and an English father, initially on the island of Guernsey, then in London in 1935, and later, during the Second World War, in Casablanca, Morocco. He moved to Paris to study painting in 1947 but was drawn into the world of acting instead, first appearing on stage at the age of 24.
Lonsdale is bilingual and is in demand for English-language and French productions. He is best known in the for his roles as the villainous Sir Hugo Drax in the 1979 James Bond  film, Moonraker. His other acclaimed films include The Trial, Day of the Jackal, (with Edward Fox) The Name of the Rose (with Sean Connery), Remains of the Day, Munich (with Daniel Craig and Mathieu Amalric) and Ronin (With Jonathan Pryce and Sean Bean).
He also plays the voice of Hugo Drax in the 007 Legends.
Gallery
Ad blocker interference detected!
Wikia is a free-to-use site that makes money from advertising. We have a modified experience for viewers using ad blockers

Wikia is not accessible if you've made further modifications. Remove the custom ad blocker rule(s) and the page will load as expected.