Moonraker was the first James Bond radio adaptation.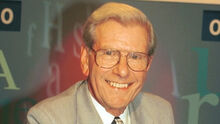 Overview
In 1956, Bob Holness provided the voice for James Bond in a South African radio adaption of the Ian Fleming novel Moonraker.
The Moonraker special was arranged by the Durban Repertory Theatre. Bob has said that it was broadcast live, and as such, there is no known recording of it. It is believed that local performers from Durban voiced the other roles, and that the production was under ninety minutes.