Novel
—
Film
—
Audio drama
—
Soundtrack
—
Song
—
Novelisation
—
Characters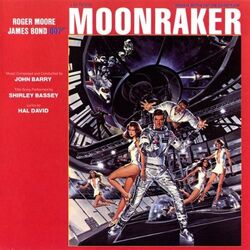 Moonraker was the third of the three Bond films for which the theme song was performed by Shirley Bassey. The soundtrack was composed by John Barry. Moonraker uses for the first time since Diamonds Are Forever a piece of music called "007", the secondary Bond theme composed by Barry which was introduced in From Russia with Love. The soundtrack also references the theme from The Spy Who Loved Me.  In January 2015, James Fitzpatrick started a Kickstarter campaign to finance a new "complete" recording of the Moonraker score, citing lost master tapes, key moments that were not included on the released soundtrack, and less-than-ideal recording conditions on the original sessions.  The recording was to be undertaken by Nic Raine and the City of Prague Philharmonic Orchestra. However, the project, soon after reaching its destination goal, was canceled due to undisclosed rights issues. 
Track listing
Main Title - Moonraker by Shirley Bassey
Space Laser Battle
Miss Goodhead Meets Bond
Cable Car and Snake Fight
Bond Lured to Pyramid
Flight into Space
Bond Arrives in Rio and Boat Chase
Centrifuge and Corrine Put Down
Bond Smells a Rat
End Title - Moonraker
Ad blocker interference detected!
Wikia is a free-to-use site that makes money from advertising. We have a modified experience for viewers using ad blockers

Wikia is not accessible if you've made further modifications. Remove the custom ad blocker rule(s) and the page will load as expected.