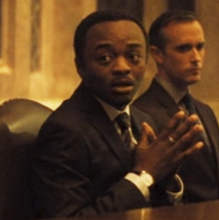 Moreau, played by Marc Zinga, appears in the 2015 film Spectre playing as a member of the SPECTRE organisation.
Film biography
He is the spokesperson of Blofeld. He is present at the SPECTRE meeting at the Palazzo Cadenza in Rome and states that Marco Sciarra's mission (disposing of the Pale King) remains to be accomplished and calls for someone to replace him. Guerra volunteers first, only to be killed by Mr. Hinx, who takes his place. After the meeting he isn't seen in the film again.
Ad blocker interference detected!
Wikia is a free-to-use site that makes money from advertising. We have a modified experience for viewers using ad blockers

Wikia is not accessible if you've made further modifications. Remove the custom ad blocker rule(s) and the page will load as expected.