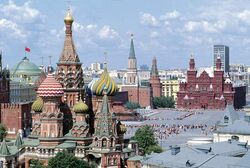 Moscow is the capital city and the most populous federal subject of Russia, and formerly, the Soviet Union. It was featured in the James Bond novels From Russia with Love, The Man with the Golden Gun and The Man from Barbarossa and seen in several Bond films including The Spy Who Loved Me, Moonraker, For Your Eyes Only and Octopussy.
Ad blocker interference detected!
Wikia is a free-to-use site that makes money from advertising. We have a modified experience for viewers using ad blockers

Wikia is not accessible if you've made further modifications. Remove the custom ad blocker rule(s) and the page will load as expected.