Game
—
Soundtrack
—
Song
—
Characters
—
Equipment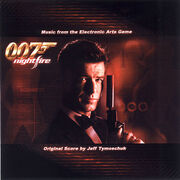 The soundtrack for James Bond 007: Nightfire was released by Jeff Tymoschuk as a promotional CD on November 18th 2002 by Electronic Arts. It opens with a rendition of the series' main theme, "Paris By Helicopter". Following a cinematic introduction, Jeff Tymoschuk offers a straightforward rendition of the Monty Norman classic. However, the production values are much more impressive than its past video game adaptations, with the bellowing brass and slapped bass standing out as they should do. Overall, this iconic track is a suitable introduction to the score and demonstrates the series' games at last attaining filmic production values.
The demo track at the end of the soundtrack also features an even more linear interpretation of the theme.
Ad blocker interference detected!
Wikia is a free-to-use site that makes money from advertising. We have a modified experience for viewers using ad blockers

Wikia is not accessible if you've made further modifications. Remove the custom ad blocker rule(s) and the page will load as expected.