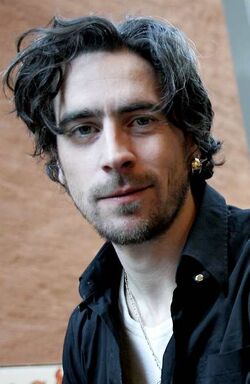 Ola Rapace (born Pär Ola Norell on 3 December 1971) is a Swedish actor who is most known in his home country for his roles in the popular TV series Tusenbröder and the first season of Wallander, which is based on Henning Mankell's Kurt Wallander books. Internationally, he is most known for his role in the 2000 Lukas Moodysson film Together and the 2012 Bond movie Skyfall with Daniel Craig where he plays a henchman/assassin/mercenary named Patrice.
Personal Life
Ola was married to the actress Noomi Rapace (star of the Millenium Trilogy Swedish films and Prometheus) from 2001 - 2011. They chose the surname Rapace together, which means "bird of prey" in French and Italian. Ola Rapace lived in France for several years and speaks fluent French. In October 2008 he was arrested for possession of cocaine, which in April 2009 resulted in a fine for minor drug offense.
Ad blocker interference detected!
Wikia is a free-to-use site that makes money from advertising. We have a modified experience for viewers using ad blockers

Wikia is not accessible if you've made further modifications. Remove the custom ad blocker rule(s) and the page will load as expected.