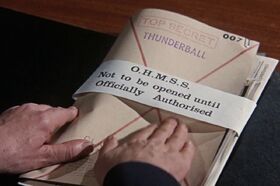 A military operation plan (also called a war plan before World War II) is a formal plan for military armed forces, their military organizations and units to conduct operations, as drawn up by commanders within the combat operations process in achieving objectives before or during a conflict. In the James Bond franchise there have been numerous operation plans devised by both the protagonists and antagonists, often having codenames.
List of operations and projects
Ad blocker interference detected!
Wikia is a free-to-use site that makes money from advertising. We have a modified experience for viewers using ad blockers

Wikia is not accessible if you've made further modifications. Remove the custom ad blocker rule(s) and the page will load as expected.