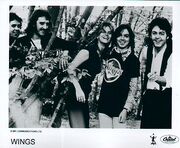 Wings (also known as
Paul McCartney and Wings
) were an Anglo-American rock band formed in 1971 by former Beatles guitarist Paul McCartney with his wife Linda McCartney, session drummer Denny Seiwell, and former Moody Blues guitarist Denny Laine. Wings were noted for frequent personnel changes as well as commercial success, going through three lead guitarists and four drummers. However, the core trio of the McCartneys and Laine remained intact throughout the group's tenure.
In October 1972, Wings recorded the theme song to the James Bond film Live and Let Die, which reunited McCartney with Beatles producer/arranger George Martin.
Ad blocker interference detected!
Wikia is a free-to-use site that makes money from advertising. We have a modified experience for viewers using ad blockers

Wikia is not accessible if you've made further modifications. Remove the custom ad blocker rule(s) and the page will load as expected.