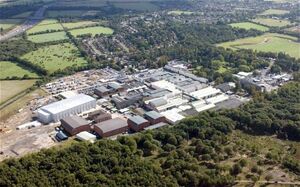 Pinewood Studios is a major film studio in London where most of the James Bond films were filmed. Pinewood Studios is home to the Albert R. Broccoli's 007 Stage.
The studios have been operating since the early 1930s and have chronicled much of Britain's history including many high profile World War II documentaries.
External links
Ad blocker interference detected!
Wikia is a free-to-use site that makes money from advertising. We have a modified experience for viewers using ad blockers

Wikia is not accessible if you've made further modifications. Remove the custom ad blocker rule(s) and the page will load as expected.